AliExpress dropshipping isn't dead and remains one of the most profitable business models for eCommerce entrepreneurs interested in making money online and from the comfort of their homes.
The only thing that's changed in 2021 is the competitive landscape. It's more saturated than ever with similar platforms coming to market, but AliExpress has adapted to the market, making it easier than ever to succeed as a dropshipping business with AliExpress products.
What is AliExpress?
AliExpress is one of the largest online retail websites in the world, and millions of eCommerce merchants use it to find products for their dropshipping business.
Aliexpress was launched in 2010 as an online business-to-consumer platform where Chinese retailers can sell their products to foreign consumers. The website was launched by Alibaba Group, a major Chinese eCommerce company which also owns Taobao and Tmall.
Does AliExpress allow dropshipping?
Yes.
Today, AliExpress is practically synonymous with the idea of dropshipping products.
You can find everything you need on AliExpress. From needles to trains, as the old saying goes. No matter what you sell in your store, you're bound to find more items like your current products on this incredible marketplace.
Additionally, AliExpress is affordable. The pricing is extremely competitive; you'll find products for much cheaper than you would on other platforms.
It's why dropshippers love it so much.
The Benefits of AliExpress Dropshipping
AliExpress dropshipping is a piece of cake.
Whether you're an entrepreneur in the United States or Hong Kong, you can easily find the products you like, and import them to your online store. Once you've sold them, you pay the wholesale price, the Aliexpress seller ships them, and that's all you have to worry about.
It's the ideal place to get started as a new store owner.
Upfront cost, bye-bye!
One of the pros is that you don't even have to pay a fee to get started with the AliExpress dropshipping program. You'll only pay the wholesale price when you sell the product. The profit margin is yours to keep.
The fact that there is no upfront financial commitment significantly reduces your start-up capital. All you need to do is create your own website. You won't have to pay for products or fees to access the products until you start earning money.
And even then, it's just the wholesale price + shipping.
AliExpress suppliers don't dictate minimum or maximum prices, either. You can add your profit margin and set the final price on your own. The wholesale prices on AE are usually very low, so you'll have plenty of room to work with.
Since AliExpress.com is a huge marketplace connecting millions of sellers with hundreds of millions of buyers, you'll find popular products on there first. That is one of the competitive advantages.
While other platforms, such as Banggood, Lightinthebox and DHGate will be sluggish, AliExpress won't. They depend on being the first and having super low prices.
Keep in mind that the majority of sellers on AliExpress are factories based in China. One of the widely spoken about cons of this platform is the shipping time. However, shipping times no longer are a month or more. While Ali Express used to be known for its long shipping times to regions like the United States, order fulfillment is now much faster.
With ePacket delivery (made possible because of smaller orders that don't call for shipping containers) and new shipping methods, your customers will get their packages in 14 days at most. If you're only looking for same day or single day shipping, AE may not be the best solution for you.
With that in mind, it's time to set up your AliExpress dropshipping store.
Selecting Your AliExpress Dropshipping Products
Don't fret if you don't have fleshed out product ideas. Products on AliExpress are sorted according to categories.
For example, consumer electronics, home improvement, clothing, jewelry, etc. However, you can find your products based on keywords.
There are plenty of product variants on AliExpress. It can be a lot. But don't panic! All those options (and your marketing) are what is going to help you get more customers than you've ever dreamed of.
If you already have product ideas and know what you want to sell, that's great!
If you don't, it pays to take a look at trending products.
Then, use those keywords (e.g. "fidget spinner buy") and plug them into Google Trends to evaluate interest over time. Pay attention to the location, as well.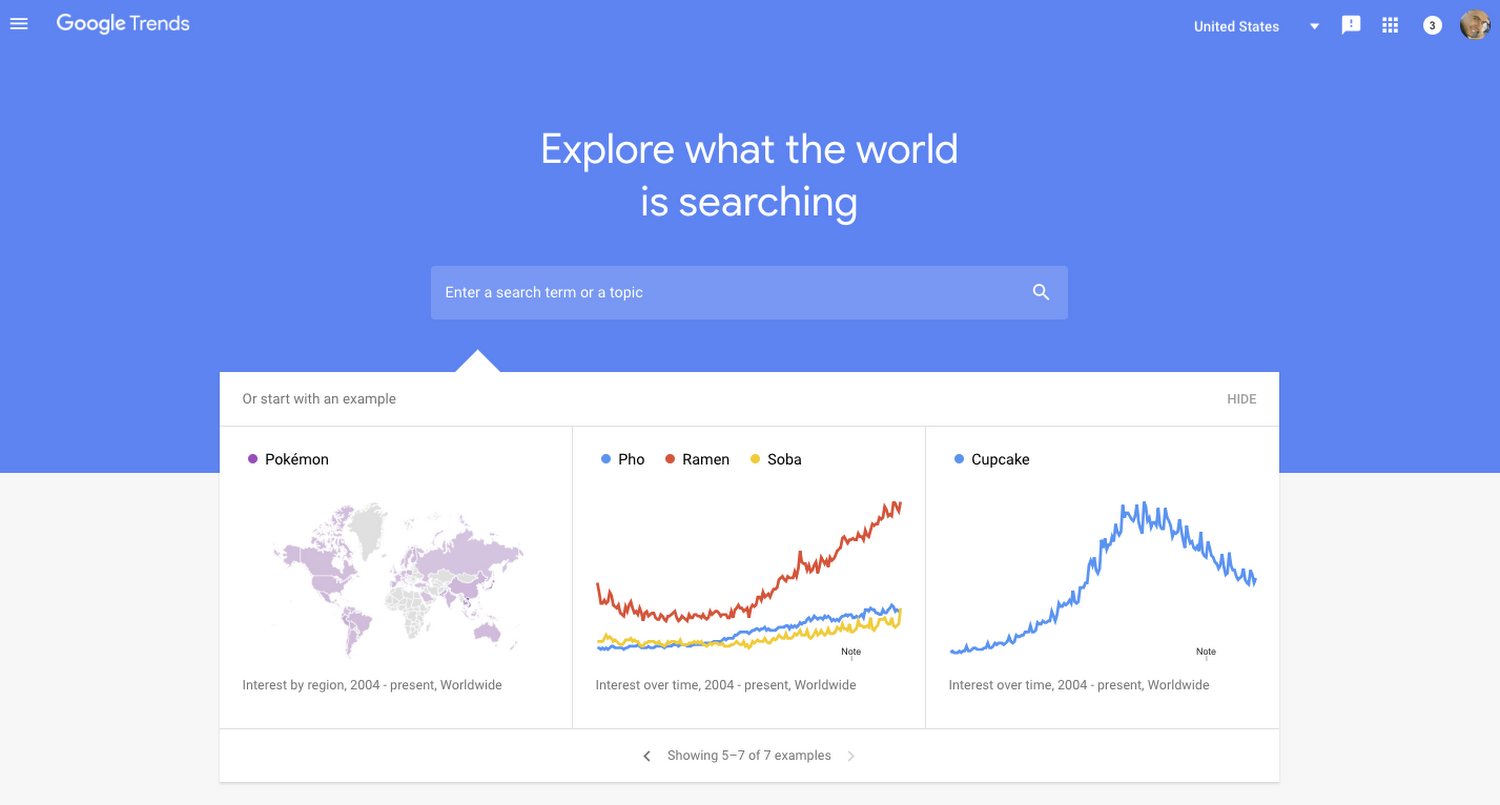 You can even compare multiple products at once and make sure that you're selling profitable items.
Even if you don't sell a thing, it's okay. Remember: you haven't paid for a single item that hasn't been sold.
All you've done is synced your store to AliExpress' catalogue.
Running your own website doesn't get better than that.
You can use the following product tips and tricks to set yourself up for AliExpress success:
Stock up on seasonal products

– If holiday time is coming, you can add seasonal products to your store to make extra money. If you can find seasonal products that fit your niche, that's even better!



Think about what your customers want

– Know your target audience well. If you sell to men, they might be on the lookout for great gifts for their S.O.'s. If you sell to teens, trendy products are always a hit. If you stocked up on consumer electronics, it might be good to add accessories and peripherals.



Go the extra mile –

In drop shipping, you're not going to compete based on the price. Not even quality. Plenty of dropshippers can sell the same products you sell in your store. What makes a difference is that extra mile – the

additional value

you provide your customers. Sometimes, that can be a blog with helpful tips, or extra materials. For example, if you sell within the fitness apparel niche, you could have a professional create an exercise routine book showing your customers how to snap on their yoga pants and get ready for the summer sunshine.



Shipping & Delivery –

Choose products from Aliexpress sellers who offer free ePacket shipping, not standard shipping. ePacket delivery arrives in 2 weeks at most, standard shipping arrives in 1-2 months.



Margin potential

– You want to earn as much as possible from your products. Pay attention to the wholesale price (+ shipping, unless it's free) and then conduct market research (Googling works) to see what kind of markup you could add. After all, you'll need to promote your store. That's an additional cost that you should factor in.
Finally, it's a good idea to order product samples.
You can test the quality of the product, as well as take your own product photos. It will significantly help your marketing efforts in the long term, especially if you have consistent branding.
Selecting Reliable AliExpress Dropshipping Suppliers
When you drop ship, your ecommerce store is only as good as your Aliexpress suppliers are.
The best part of drop shipping with AliExpress.com is that you get access to a vast number of not only products, but sellers as well.
You can choose the suppliers you think are the most reliable, get quotes from multiple factories, and make the best possible decisions for your business.
Conversely, other platforms offer fewer chances of connecting with different suppliers manufacturing the same products. And if you only have two-three potential suppliers, you're forced to agree to their terms.
When you use the AliExpress dropshipping program, your business is completely your own.
The platform is just there to offer you plenty of options; from private label sellers who offer additional services (e.g. customization), to complementary products.
After you've decided on the product(s) you want to sell, it's time to start looking for suppliers.
Check the suppliers' product orders, product reviews, and feedback score.
The more positive reviews and stars rating your vendor has on the product page, the more reliable they are. Pay attention to what their previous customers mention, as well. Maybe they say the supplier was flexible or provided high-quality service.
Some sellers are simply there to ship the products, and they don't pay as much attention to the presentation.
For example, you don't want the dropshipping supplier to include your invoice in the package. Great drop shipping is invisible drop shipping.
If you have other requirements, pay attention to reviews mentioning them, as well.
If a Aliexpress seller doesn't have a lot of ratings and product orders, it doesn't have to be a red flag. Visit their profile to see how long they've been using AliExpress. If they signed up recently, it's normal not to have a lot of product orders.
However, if they've been using it for a while and you can hear the crickets, keep moving down the list. The bottom line is that they're probably not a reliable supplier.
The ideal seller has positive feedback, and their products are highly rated.
The quality of your products matters, so make sure you're working with a reliable supplier producing quality products for your store.
Understand the seller's background.
Has their store been open for a long time? Choose sellers whose stores have been open for at least a year.
Are they a Top Brand?
There are also some sellers on AliExpress who have Top Brand status. It means that they satisfy all the requirements, and have a history of excellence. They're definitely a reliable supplier you want to shortlist.
Before you choose a vendor, send them a message.
Ask everything that they haven't covered in their policy statements, and make sure you pay attention to:
You should clear everything up with the dropshipping supplier before you integrate their products into your store.
And once you're ready, it's time to set the wheels in motion!
How to add AliExpress Products to your eCommerce Business
There are two ways you can add AliExpress products to your online business:
Manual import is okay if you run a small online store, or plan on selling one or two products.
However, if you plan on selling multiple items across different product categories, you're going to need a scalable solution for importing items in just a few clicks to your own website.
Fortunately, there are a few great plugins you can use to automate your work and set yourself up for success:
Adding Aliexpress.com products to Shopify
New ecommerce entrepreneurs love to set up their dropshipping businesses on Shopify. If you have a Shopify store, you can use Oberlo or Modalyst to import products to your own website. It comes with a free plan for up to 500 products.
When you want to import product listings with Oberlo, you have two options: using the Oberlo dashboard, or getting the Google Chrome extensions.
From the dashboard, you'll find the products and add them to your import list.
If you're using the browser extension, you can add products while you're on AliExpress.
After you've added the desired products to the import list (with the app or the extension), you can modify your product listing before uploading them to your ecommerce store.
If the product you've selected comes in different variants, visit your Oberlo Import list and select only the variants you want to sell.
Otherwise, the product will be imported with all the variants.
You can also use Oberlo to automate fulfillment and track product inventory levels.
Adding AliExpress.com products to Bigcommerce
If you run your own online store on BigCommerce, you can use apps to import AliExpress items to your website.
Currently, CedCommerce's dropshipping app offers the best pricing and features. Users frequently note the ease of use, support, and a seamless process. In just a few clicks, your AliExpress products will be displayed in your own online store in a matter of seconds!
Tips & Tricks
If you want to maximize your store's success, you shouldn't just import products and call it a day. Every major integration and plugin gives you the ability to customize your product details, images, and create your own listings.
You can automatically import details directly from the product listing on AliExpress. However, it's much better to customize your product descriptions for your audience:
Stand out from the competition

: your marketing is a significant differentiator for your store. Don't hesitate to write your own copy, take your own product photos, or create mockups.
If you're not taking your own photos, then select the photos that aren't branded by the supplier in any way. This will ensure that the customers associate your products you're your brand, and not your supplier's brand.
Make sure you mention shipping costs and delivery times on your website.
If your products usually take two weeks to arrive, notify your customers of that before they purchase the product to avoid chargebacks and refund requests.
If you have products from multiple wholesale suppliers listed on your website, you should specify shipping times and shipping costs for each variant in the product description. Remember, epacket delivery option isn't the only method of sending orders to your customer. Take a look at Aliexpress premium shipping for faster shipping and high-quality carriers.
Finally, everyone likes free shipping.
You can always integrate the average cost of shipping into the price, but it'll sound much nicer for potential customers who are on the fence. It's an additional perk greatly appreciated by many, and it could bring you plenty of repeat customers.
Dropshipping with AliExpress and Modalyst
You can process orders of AliExpress products manually or automatically.
If you're dropshipping Ali Express products with your Shopify store, you can use apps like Modalyst or Oberlo to automate order fulfillment.
Oberlo is designed for beginners. It automates so much of the workflow, including tracking price changes. This way, you won't have to go through the pain of manually entering order specs for every single order that comes through your dropship store.
Instead, the entire process will be automated, allowing you to focus on marketing and selling your products.
One of the other pros is that Oberlo allows you to add order notes.
It's always a good idea to tell the seller that you're a dropshipper. This way, they won't add packing slips or invoices to the shipment. If you're an affiliate, you may not be concerned with this as much. But online businesses looking to drive repeat business to their storefront, should always request this option.
Make sure you add your request to every order note.
Speaking of branding, if the seller is open to customizing shipments with your thank-you notes or other materials, add that to the order notes.
Finally, select ePacket delivery for smaller orders.
Sometimes it's the default option, other times it's not. It's why it's good to set it as the default shipping option with Oberlo. This way, Oberlo will select ePacket shipping every time orders are processed through the app.
If you're not using Oberlo, take the tracking info you've received and add it to your Shopify store's order, marking it as fulfilled.
With Oberlo, this is completely automated and completed for you.
The process is similar if you're dropshipping with BigCommerce. You can use one of the apps in their store to automate the process.
Paying for Products
You can pay for AliExpress products in a few ways:
Debit cards

Credit cards

Wire transfers

Cash payment in certain countries

SMS payment in certain countries

PayPal for certain countries and sellers
AliExpress accepts other country-specific methods, such as German Giropay.
Credit cards and Paypal are the best options. You can easily reverse the transaction if the order isn't shipped, or if there's something wrong with the order.
When you first add your credit card to AliExpress, it'll take a few days for it to be verified so don't plan on processing orders during that time.
Returns and Refunds
Every supplier's returns and refunds policy is different.
While AliExpress does their best to protect the buyer, you'll have to manually check with your Aliexpress seller regarding refunds and returns.
If you or your customers encounter a problem, you can file a dispute with AliExpress:
Get photos from your customers

File a dispute

Receive a partial refund, refund, or return the product
If the product hasn't been delivered, you'll typically have to wait for the standard 45 days to pass, after which you can receive a complete refund.
Again, this is why it pays to select your suppliers carefully. While undelivered or mismatching items are not common, you can ensure there are no problems by carefully vetting suppliers and communicating with them extensively.
AliExpress has a strong Customer Support team and a great Buyer Protection program, so if the suppliers' policies are matching, you won't have to worry at all.
AliExpress Dropshipping Best Practices
In addition to the basics, there are a few things you can do to set yourself up for success like many new ecommerce entrepreneurs running their businesses on autopilot:
Automate Everything using Modalyst with AliExpress
As a rule of thumb, if it can be automated, it should be automated. Automation is a real competitive advantage for new ecommerce entrepreneurs.
For example, Oberlo is a great Shopify plugin. You'll save a lot of time and headaches by automatically importing products and processing orders. You'll even get access to real time inventory tracking so you never sell a product that's not in stock.
Similarly, you can use other automation tools for your marketing activities.
Is the goal to chill poolside while your store runs itself?
Definitely.
And while you'll always need to create strategies to scale and grow your store, you can make the process a lot easier by using the right tools.
Invisible Dropshipping with AliExpress sellers
Always ask the supplier not to include packing slips, invoices, or anything else that could ruin your branding. Even if you choose epacket for delivery, blind shipping is available for drop shipped orders.
If you want to scale your business and build a brand your customers are going to love, you can also ask your suppliers to include your thank-you notes and paraphernalia. The manufacturers on Ali Express can sometimes surprise you with the level of customer service they offer.
This way, your customers will be tangibly reminded of your store.
Motivate Your Online Shoppers
Around 40% of a store's revenue comes from repeated purchases. Yep, that means your customers loved your products and they want to buy more.
However, sometimes they need a little push.
You can offer free shipping, promotions and discounts. Especially if the season calls for it. There's nothing people love more than seeing their favorite store offering a Black Friday discount.
If you want to attract even more customers, offer referral incentives. For example, you could offer your customers and the referee 5% off if the referee makes a purchase at your store.
Drop Surfing
Since AliExpress gives you access to thousands of suppliers, don't limit yourself to just one.
Instead, always look for the best ratio of price and quality.
Keep browsing the catalogues for a chance to spot a supplier with a lower price and equally amazing products.
Ready to Dropship with Modalyst and AliExpress?
Drop shipping with AliExpress really is the best way for entrepreneurs to start earning money as soon as possible.
What do you say? Are you ready to import snazzy new products in just a few clicks?
Let's get going!